Massive technological advancements have changed how content is transmitted over the internet. With these changes, podcasts have become one of the most popular forms of digital media, attracting thousands of podcasters worldwide. But what is a podcast exactly? How does podcasting work now in the 2020's?
If you're thinking of joining other content creators by starting a podcast, learn about the process of podcasting or just understand how to listen to podcasts – you're in the right place. In this article, we'll look at the basics of podcasts, such as what podcasts are and how they work. Let's get started!
So, What Is a Podcast?
Podcasts are a series of audio episodes. They can be sequential but it episodes under one show can also be unrelated. Podcasting has many forms, it can be hosted by one main host, by a few hosts, and can include music, conversations, monologues, recorded radio shows or music-oriented themes, and much more.
Usually a podcast "show" (also known as "series") focuses on particular themes or topics and is then available for listening or downloading via the internet. An individual audio recording is known as a podcast episode, and the creator of is is referred to as a podcaster.
You can easily create a podcast on your own or engage with other individuals (or guests) to share experiences, stories, or report news. Your podcast will require hosting on a podcasting host platform such as Anchor, Buzzsprout, or Captivate, as well as being added to Apple Podcasts, Google Podcasts, Spotify, or other streaming applications so that your audience can listen easily.
How do podcasts work?
The question that naturally follows 'what are podcasts' is how exactly do they work?
We won't go too far into the technical aspect, but the main technology behind podcasting is known as "RSS". These are web-based feeds that can be read by feed-readers, so those can know whenever a new episode is added. Feeds can be subscribed to, so everyone can get those updates.
It's important to state that there are no gatekeepers in the world of podcasting; everyone can participate! Unlike television and radio networks which are subject to approvals and regulations, podcasts are open to anyone and allow podcasters to self publish their content, very much like websites or social networks.
So, if you have an idea for your podcast series, you can just go ahead and start creating content. The best podcasts, however, require some time and resources.
You'll need a good microphone to record your podcast. you can find a quality USB mic that suits your budget. You'll also need editing software. Luckily, most software allows for both recording and editing of podcasts. Audacity, which is free, is ideal for most beginners. However, you may need some time before mastering your ways around it.
You can also use Alitu, another popular editing software among upcoming podcasters.
Having recorded and edited your podcast to the point you are happy with it, you will need to upload it to a server and add it to your feed so your audience can access it. (and don't worry – this process usually doesn't require any technical background)
Podcasting host platform
As mentioned above, you will need a podcast hosting platform so you can upload all your audio recordings. Typically, those hosts are also automatically generating the RSS feeds for you.
A podcast host will ask you for information about the show such as your podcast description, genre, and artwork. Your audio files, along with the information, will then be turned into a public RSS feed and ready to be consumed by the public.
There are dozens of podcast hosts available. Some offer free plans, while others are better for enterprises and professionals. Here is the full list of podcast hosts.
Your podcast can then be uploaded to podcast directories, apps, etc. A key part of your podcast is your website. You should definitely create a podcast website using your podcast RSS feed, even if you are just getting started. 
A podcast website is especially important for podcasters as it could be the place where you establish your own brand. It can include features such as audio players, subscribe buttons, contact forms, social sharing, email opt-ins, podcast reviews, and many others.
You can create a podcast website in minutes with Podcastpage, which includes all of the above features.
After you've uploaded or published your podcast, you need to promote it. You can promote it on social media platforms by sharing the link or asking a friend to share it with their friends. This helps you reach a larger audience. Here are 10 tips to help you grow your podcast audience.
Different types of podcasts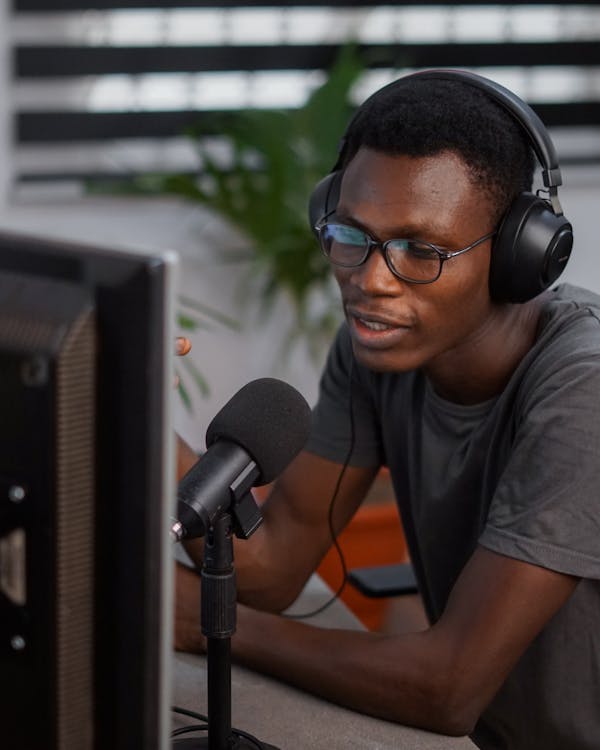 Next, let's take a look at the different types of podcasts you can create. There are (at least) five popular types of podcasts:
Interview: An interview-style podcast is similar to a TV talk show where a host or several hosts interview a person of interest or an expert in a certain field.
Scripted fiction: These podcasts are audio-only theatrical productions that tell fictional stories. If you are a good storyteller, scripted fiction podcasts can be the best option for you. Here, you can tell a single serialized story or develop a new story for each episode.
Nonfiction storytelling: Nonfiction stories are true stories. To create a nonfiction storytelling podcast, it's advisable to choose a true story that's entertaining, inspiring, or educating. You can narrate the story of a popular individual or even a crime that hit the headlines. You can even interview the involved parties to make your podcast more authentic, exciting, and inspiring.
Monologue: Monologue podcasts, also known as solo podcasts, mainly involve experts in particular fields such as news anchors, comedians, or storytellers with something to share with the public. A monologue is about one person speaking.
Conversational: Conversational podcasts can be quite entertaining and informative. They involve two or more people who come together to talk about a particular topic. The topic can be anything from history, science, pop culture, sports, comedy, etc. The choice of a topic and the competency of the participants determine the success of your show.
Can podcasts include video or just audio?
As an upcoming podcaster, you may be wondering whether podcasts are video or audio. Typically, many people think podcasts are only audio, but interestingly, there are video podcasts too. However, audio podcasts are more popular because they serve the original intent of podcasts; they are meant to be background content that can inspire, entertain, or educate you as you do something else.
For example, it's easier to listen to an audio podcast when driving, walking, or doing some chores than a video podcast which may demand your visual attention.
It is also possible to do both. You can publish an audio and video version so that listeners can choose their preferred medium. It is also a great way to promote your show since you can repurpose your content into different media types.
Wrapping up
Hopefully this post gave you a better understanding of what podcasts are and how they work.
Podcasts are a not-so-new way to make your voice heard by a massive audience. You can show the world what you got by joining other podcasters today. The information discussed above will help you know what's there in the podcasting world. All the best as you launch your podcasts!
Get a website for your podcast today
Podcastpage makes it easy to grow your show with our next-gen website builder
Start 14-day free trial